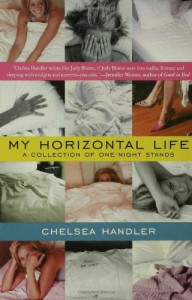 I never intended to read this book. I'm not much of a fan of Chelsea Handler-mostly out of indifference and the idea of reading a memoir about one night stands just isn't the type of book I see myself reading but as a joke I "stole" this book from my sister, fully intending to replace it.
Instead I found myself wanting a lighthearted read as I took a bath and somehow this title was grabbed. After the first chapter, and a few laughs I realized that perhaps I had been a bit hasty to judge this book. At least I was releaved that for a book called My Horizontal Life, it was actually kind of tame. Yes, there was tons of sex but it was quite tame from what I was expecting.
I can't really say that I am now officially a fan of Chelsea Handler as quite honestly, I'm still on the fence whether or not I actually like her and her sense of humor but I am definitely much more likely to go ahead and read one of her memoirs. They do seem like they can be funny.